The Adoptable Animals of the Week for September 9th
First off meet Bianca!
She is a one-year-old, 99-pound, female, Central Asian Shepherd. Bianca was surrendered to the shelter through no fault of her own. She loves to go on daily walks and is very curious of her environment. She would love an active household so she can get all of her energy out and show you how goofy she can be! She loves lots of affection and can't wait to show you how great she is at "sit". Bianca lived in a home with other dogs and would love to meet your fur family!
If you are interested in meeting Bianca, please call the Kennel Department at 724-222-PETS ext. 107!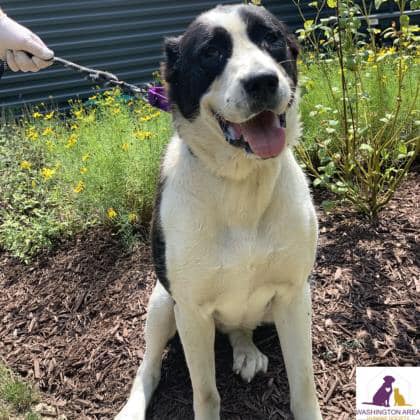 Also Meet Webster!
He is a two-month-old, long-haired tabby mix. Webster is a very sweet kitty looking for someone who can help him come out of his shell. He is afraid and needs a loving new adopter to let him know he is safe. Once he is being pet and loved on, he starts purring away and looks at you with loving eyes. He loves to be carried around in a kitty sling and exploring the house with you!
To meet Webster, please call the Cat Department at 724-222-PETS ext. 105!
The Adoptable Animals of the Week for September 2nd
Meet Patsy!
She is an eleven-month-old, 48-pound, female Pit bull terrier mix. Patsy was surrendered to us through no fault of her own. This sweet girl can be a little nervous at first but is a love bug once she gets to know you. Patsy would love to go on daily walks to explore the environment. If you are looking for a hiking companion, then Patsy is your girl! Patsy would love for her new adopters to have an active household so Patsy can get her energy out. She would also love to show you how much she loves to give hugs. Patsy did live with 2 other dogs (Noel and Skeeter) and is very friendly with them. She would do well in a multi-pet household of other friendly dogs! 
To make an appointment to meet her, please call the kennel department at 724-222-PETS ext. 107!
"Did my adorable face and regal stature catch your attention?!
My name is Queen and I'm a special needs kitty. I have Cerebellar Hypoplasia, also known as Wobbly Cat Syndrome. I have trouble keeping my balance and often fall over while playing, but that doesn't stop me from having a good time with my foster sister! Although I may be wobbly for the rest of my life, there is a slight possibility with the help of my furever family and other friendly cats to support me, my condition may be a little less noticeable in the future.
Now, that's enough about my disability, let's talk about the real me! My foster mom says I'm an absolute delight!   I have such a sweet personality and I love people!   I will always choose to lay beside you and keep you company. My foster mom also keeps me away from the scary stairs, so a single story home or someone that doesn't mind blocking off stairs for me would be best!  Don't worry, I am a very clean kitty and always use my litterbox.  I can't wait to meet my furever family!" 
Queen is a four-month-old, Torbie (Tortoiseshell/Tabby mix).
To learn more about Queen or make an appointment to meet her, please call our Cat Department at 724-222-PETS ext. 105!